Seeing small beauties leads to rewarding acts of kindness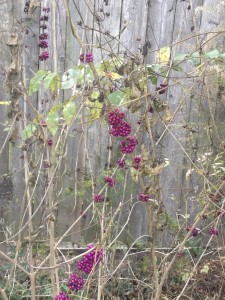 When taking a walk, I happened upon these magenta berries – so unexpected and so beautiful.  I love discovering small, unexpected gifts of nature.  Then I wondered – what if I tuned in to small acts of human beauty, of kindness?
Usually I, like most people, am so busy getting things done that I don't really notice, appreciate – or often commit small acts of kindness in everyday life.
Especially today – with the unimaginable tragedy of the school shootings in Connecticut so fresh and raw, reaching out with human kindness seems even more important.  After we strip away our cars, I-Phones, obsessions about our weight and our possessions –  we realize what is most important is kindness toward each other.
I decided the other day I wanted to reward kindnesses.  So I'm asking people to send in stories of small acts of kindness and then I will randomly send a person a week a $5 reward.
8th Grader had the idea
Of course, when I had the idea of rewarding unexpected acts of kindness, I Googled it.  And found I was late to this idea – beaten by an eighth grader in Kansas.  According to a story in the Topeka-Capital Journal, Mary Kreiger instituted a similar initiative last year.  She set up a system in which she asked teachers to reward students for acts of kindness with a $10 gift certificate donated by Downtown Lawrence .  She wanted to remain anonymous.  Not only did she beat me to the idea, she also set up funders and doubled my $5 idea into $10.
HelpOthers.org
Not only that, there's an online organization, Help Others,
started by some college students in 2003 that collects stories of kindnesses and provides "smile cards" free for people to give out to spread kindnesses.  The site also has ideas on ways to commit small acts of kindness.
These young people impress me – they have taken action to make the world a better place.  They know how important small acts of kindness are.  And I congratulate them on their initiatives.
For me, I'm going to start small.  First I'm going to commit to doing one small act of kindness each week from now on for a stranger.
Here is my offer to you —  send in – in the comments section below – a brief write-up of what you have done lately as a small act of random kindness.  Each week I'll randomly select one of you and  send you $5.  It's just a token to show you're recognized and appreciated in your efforts to spread kindness.
Post by Bojinka Bishop
Postscript 1 Act 1:  Who knew I would be tested so soon?  Just took a walk… in the middle of the sidewalk was a small black plastic bag – and having walked dogs before, I was pretty sure it was a bag of dog poop.  First I walked by it.  As I walked, I thought – I just made a public commitment to be kind.  And my brain queried – does picking up this bag and walking 3/4 of a mile with it to throw it in trash constitute a kindness?  To whom?  Then I thought – to walkers like me who don't have to decide what to do – and to keep the place neat.  So my first act!  (I wonder what the next will be?)
Act 2: My next act occurred at a doctor's waiting room – so small, but appreciated.  I simply opened the door for a woman on crutches (while others just sat.)  The woman smiled widely and said, "People are so nice here."  When a woman with a small child in a  stroller was exiting, someone who had sat through my act, got up to open the door for her.  Might I hope that my act stimulated hers?  Tell your stories in comments below.
Acts 3 and 4+: Giving a few dollars to a street person with 3 children; letting a car in front of me, out of side streets. (3 times).

See Comments. Click here. Share your ideas and comments. Click here.
FlyingHighSolo.com

-

To celebrate the special in us


Subscribe

Keep on top of what's new – subscribe to Flying High Solo! You'll get a brief email alerting you to new articles. (Your email is safe -- we will not share it with anyone).

What readers are saying

"amazing variety of topics"

"an intelligent, strong, creative, eclectic approach .... that we don't get a chance to read everyday"

"very cool and intelligent"

We're all solo in our souls – Honoring our unique paths

Rewarding Kindness

Flying High Solo is randomly rewarding acts of kindness. Click on "Seeing small beauties…" or click on "Things to do," on the blue navigation bar then on "Seeing small beauties..." for details.

Highly Recommended

Bella DePaulo's blog for Psychology Today, "the truth about singlism..." News, analysis, facts, and stories about being single in America

Writers/Articles Wanted

Flying High Solo welcomes the submission of news and feature stories for and about solos. Please click on "Submissions" in the top navigation bar for more details.