For Julie Riedmiller, a solo from Denver, and a seasoned traveler, the answer is "yes."  Going to Machu Picchu and trekking the mountains of Peru inspired her to create a new life plan –  study Spanish, become fluent, and return to South America for a year.
Machu Picchu fascinates millions
It all started with her fascination with Machu Picchu.  She's not alone in that.  Due to its popularity,  the Peruvian government now limits the number of tourists to 2,500 per day to protect it.  Still, that's close to a million visitors a year.  Built approximately 700 years ago in the mid-1400s, and sitting at over 7900 feet, Machu Picchu is the most significant cultural and historical site of the Inca civilization.
"Seeing Machu Picchu was a huge moment.  It took my breath away – the beauty and the sense of history," Riedmiller said.
Although she planned to join a guided tour at the base of the mountain, she didn't connect right away.  With all the tourists milling around, it took awhile for the guide to find her, but that didn't seem to daunt Riedmiller.  She said she just hung around the main entrance until the guide carrying a sign with her name on it came by.
"I find that when traveling, it's good to be patient and open minded" Riedmiller said.  "Not only is the sense of time different in other countries, and especially in Latin American countries, but I go on trips to experience the culture.  Not to rush around.  Plus, it's very enriching to just feel the atmosphere of a place."
Good Planning
Planning ahead may have helped Riedmiller relax.  She felt it was important to have a tour guide at major sites to explain the historical and cultural mysteries of Machu Picchu.   German (pronounced Herman), her Peruvian tour guide, shared that Machu Picchu means "many mountains" explained that the Incas built this complex as a functional community.  And a place to last forever. "That fascinated me," said Riedmiller.  She learned that around every turn is a sacred spot at Machu Picchu.
"No real history or chronological findings were documented to get the complete story of these ancient ruins, so a lot of what he shared was speculation,"  Riedmiller said.  She noted that having a knowledgeable guide is important as most information about Macchu Picchu is compiled from a combination of folklore and research by scholars.  It's believed the Incas built their sacred home surrounded by the mountains for its safety.  The site was secluded and had a water supply.   Approximately 300-500 people lived at Machu Picchu.
Riedmiller arranged her tour through Cultural Expeditions, one of many specialists in trips to Peru.  Although it cost a bit more, Riedmiller thinks having a travel planner is worth it, especially when traveling solo.  In addition to having access to places that you might not visit on your own, it's useful to have a definite plan for activities and "someone who knows where you are, and in general, what you are doing on any given day.'
Backcountry Trekking
Riedmiller's special adventure in Peru was trekking in the Ausangate backcountry.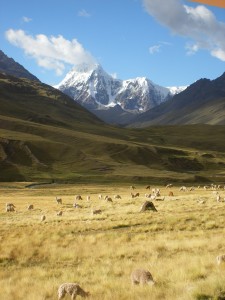 She took a 4-day trek beginning at Chillcatambo,  about 65 miles southeast of Cusco along spectacular backcountry trails with a female guide.    No defined trails made it seem all the more like an adventure, Riedmiller said.
"Hiking eight to 10 miles a day along 14,000 to 16,500-foot high trails, virtually alone, was the most amazing journey of my life."  Riedmiller said.  Along the route were guest lodges with 12-15 rooms for dinner and overnight stays.  "And the native Peruvian cuisine served there was absolutely delicious."
It was this solitary trek through breath-taking scenery that pushed Riedmiller over the edge into making a decision to go back to live in South America.
What's next?
Riedmiller, trained as a nurse and now in medical sales, has started studying Spanish with a passion recently.  She is also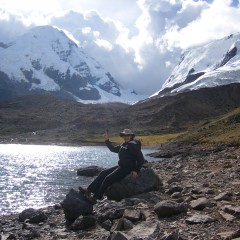 planning to learn to teach English as a second language and return to South America, possibly Peru or Chile to hike in the Andes mountains and learn more of the culture.   She wants to interact with the South Americans and travel throughout the country for a year or longer, so inspired was she after this Peruvian adventure.
Of course, not every trip or vacation leads to a passion to move to the place, or changes your life.  Sometimes a trip is just a wonderful get away.  But sometimes, just sometimes, travel changes lives, as it did for Julie Reidmiller.
Photos courtesy of Julie Riedmiller.  Story by Bojinka Bishop.

__________________________________________________________________________________
Did a place change your life?  Share it in the comments section.
See Comments. Click here. Share your ideas and comments. Click here.
Related stories:
Pines, Meadows, Natural Wonders When you look up and see the sun flashing on a million pine needles creating diamonds in air, that is when you're glad to be solo – to be wide-eyed, in awe without distraction. ...
Tips for Hiking Alone Hiking solo offers wonderful opportunities for getting in touch with nature. At the same time, it's often wise to take some precautions. 1) Hike on trails with at least five cars in the parking lot. Enough folks if you need someone, but not too many get in your way. 2)...
Walking Presque Isle Sitting just off the shore in Lake Erie, Presque Isle State Park has miles of sandy beach on the north side, with beach grasses, trees,  and gentle waves lapping. A great place to walk, especially off season....
FlyingHighSolo.com

Celebrating special people, good ideas, and useful actions

Subscribe

Keep on top of what's new – subscribe to Flying High Solo! You'll get a brief email alerting you to new articles. (Your email is safe -- we will not share it with anyone).

What readers are saying

"amazing variety of topics"

"an intelligent, strong, creative, eclectic approach .... that we don't get a chance to read everyday"

"very cool and intelligent"

Highly Recommended

Bella DePaulo's blog for Psychology Today, "the truth about singlism..." News, analysis, facts, and stories about being single in America