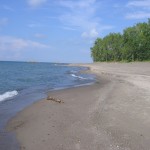 Sitting just off the shore in Lake Erie, Presque Isle State Park has miles of sandy beach on the north side, with beach grasses, trees,  and gentle waves lapping. A great place to walk, especially off season.
Presque Isle, PA
Presque Isle, just outside of Erie, PA, is a state park that sits off the shore in Lake Erie.
A nice place.  It's similar to an ocean beach, but was not quite as enchanting.
It isn't a replica of an ocean beach as some beaches in Michigan are.  But it's a perfect place to walk or bike – and there are even some boat rentals.  The sand is tan and quite fine and there's a great band of smooth little rocks near the water's edge to examine.
Pick your season carefully
I suspect in summer this is family and kid heaven, as there is an amusement park right at the entrance (which, fortunately, was closed).  Also some relatively inexpensive motels (September was off-season).  Right before the amusement park is a little Greek "fast-food" joint that served superb baklava (so glad it was open).  This might be a nice weekend jaunt to put on your spring "to do" list if you live in Pennsylvania, Ohio, West Virginia, or New York state.
By Bojinka Bishop___________________________________________________________________
Do you have some favorite places to hike?  Share them in comments.
See Comments. Click here. Share your ideas and comments. Click here.
Related stories:
Tips for Hiking Alone Hiking solo offers wonderful opportunities for getting in touch with nature. At the same time, it's often wise to take some precautions. 1) Hike on trails with at least five cars in the parking lot. Enough folks if you need someone, but not too many get in your way. 2)...
FlyingHighSolo.com

-

To celebrate the special in us


Subscribe

Keep on top of what's new – subscribe to Flying High Solo! You'll get a brief email alerting you to new articles. (Your email is safe -- we will not share it with anyone).

What readers are saying

"amazing variety of topics"

"an intelligent, strong, creative, eclectic approach .... that we don't get a chance to read everyday"

"very cool and intelligent"

We're all solo in our souls – Honoring our unique paths

Rewarding Kindness

Flying High Solo is randomly rewarding acts of kindness. Click on "Seeing small beauties…" or click on "Things to do," on the blue navigation bar then on "Seeing small beauties..." for details.

Highly Recommended

Bella DePaulo's blog for Psychology Today, "the truth about singlism..." News, analysis, facts, and stories about being single in America

Writers/Articles Wanted

Flying High Solo welcomes the submission of news and feature stories for and about solos. Please click on "Submissions" in the top navigation bar for more details.